 Press Release
28/06/2023
TUC.technology® unveils the first Plug&Play and Modular vehicle that can be driven from both sides.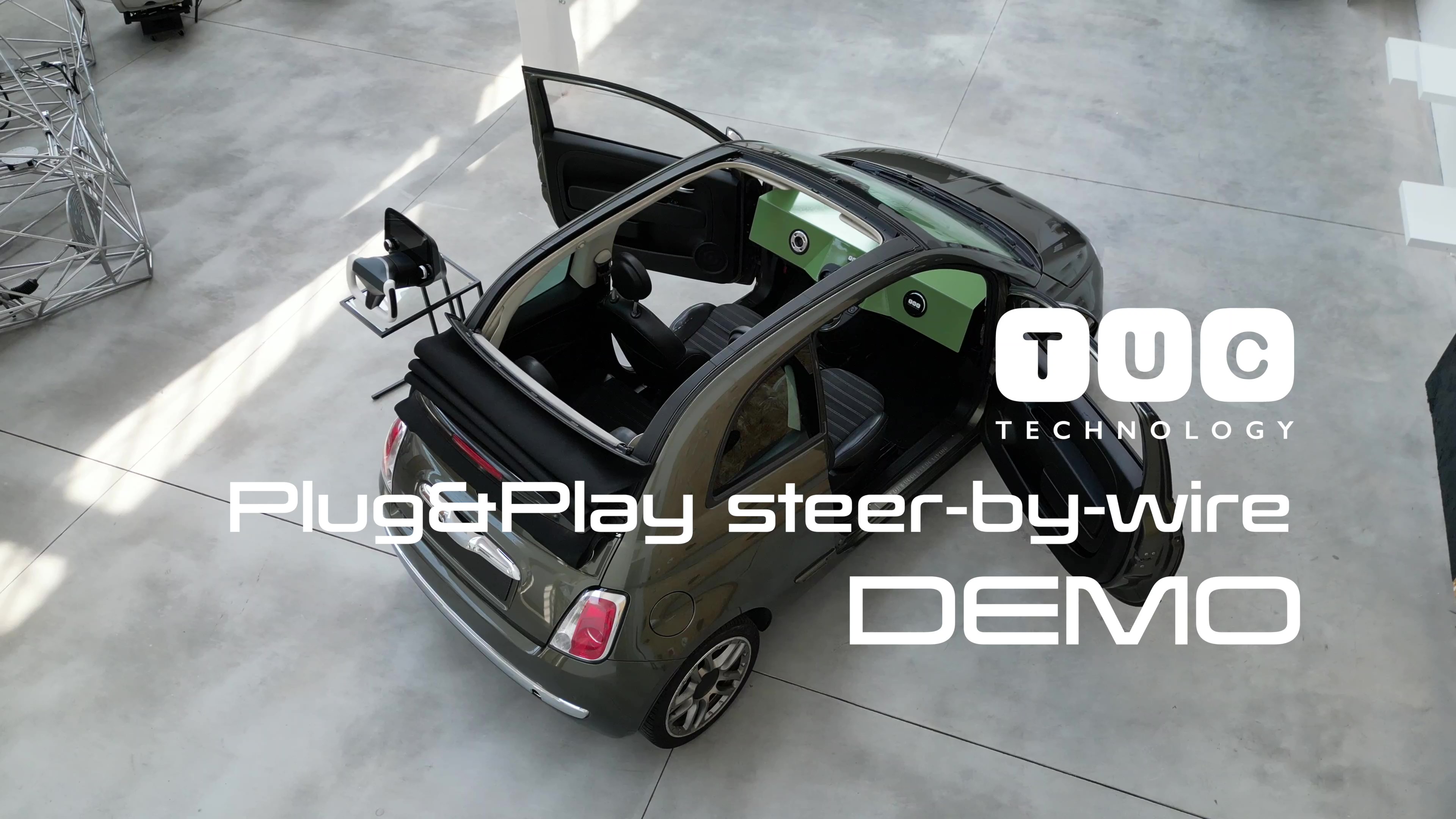 TUC.technology® unveils the first Plug&Play and Modular vehicle that can be driven from both sides with a single gesture thanks to TUC 3.0 and the cooperation with EMA Global Engineering.
Torino – After the successful launch of the industrialized release of its technology TUC 3.0, TUC unveils all the new devices developed for demonstrating its disruptive technology.
The first device protagonist of the TUC 3.0 Demo videos is the "Steer by Wire cockpit" developed in cooperation with EMA Global Engineering.
The "Steer by Wire" cockpit shows how TUC.technology can be applied to today's vehicles with few changes, allowing new, unusual, and unprecedented use cases.
It has been integrated on both vehicles' prototypes developed for TUC 3.0 launch, the TUC.nest and the city car. The development on the city car prototype aimed at showing how, with TUC.technology, a vehicle can be developed to be driven on left-hand and right-hand side with a simple gesture, with no other changes or adaptations on the interiors thanks to a true plug&play technology.
EMA Global Engineering was founded by Mr. Filippo Pilato in 2005 with the aim of offering unique and timely technology consultancy services to automotive companies in Turin, Italy. Today it has evolved to become a professionally managed, global engineering consultancy company driving business results for customers across various industries.
EMA Global Engineering strategy is the central attention to the customer: finding out their dreams and needs, working together to achieve them applying an agile methodology focused on continuous research and improvement.
The experience in the automotive industry has given the learning's and best practices of a systematic and robust product development.
The partnership with EMA Global Engineering reinforces the "Made in Italy" advanced technology message that TUC is promoting since the beginning of its journey.
EMA Global Engineering is an Italian technological leader and will represent a relevant addition to the TUC.technology Excellence Program.
Launched since the beginning of TUC journey, the Excellence Program has the ambition of developing the disruptive TUC.technology applications with prestigious partners to further highlight the feasibility, concreteness and its strategic use in industry.
"With TUC technology, we intend to develop a standardized solution for vehicles, allowing a blank sheet approach to the layout of the cabin according to the user experience. For doing that, we are engaging the most valuable industry leaders and disruptive new players, such as EMA Global Engineering." explains Ludovico Campana, co-founder, inventor, and CEO of TUC. "We are excited to have the support of EMA Global Engineering, whose deep knowledge of the automotive industry will help us to further refine the development of our technology."

"EMA Global has chosen TUC technology as the best expression of its skills and potential, creating innovation in a tangible product. When a Tech company meets a disruptive idea, it has two options: stay within the comfort of its own history or change it.. We always choose to be a change agent. This partnership is the result of working on innovation that turns into a real application" – says Filippo Pilato, founder and president of EMA Global Engineering.
For the official Press Release visit the "NEWSROOM" section of the website: https://news.tuc.technology/
ABOUT EMA Global Engineering
EMA Global is based in Turin, Italy, and since 2005 it has been a point of reference in the field of electronic and mechatronic design. Although our team's great skills cut across different sectors, we specialize in customized state of the art solutions for automotive.
EMA Global has outstanding capability to design electronic systems of any dimension: a single electronic unit or a complex system requiring multiple devices. For embedded applications EMA Global can provide software solutions using the most suited programming languages, developing source code manually or model based and establishing the best design for cyber-security features, such us secure boot and secure update with specific processes for the software signature ownership.
Automotive SPICE reference model and the Agile methodology are the basis of our quality system. We are experts in product costs estimation, design excellence schematic circuits and PCB layouts in any technology and produce both brilliant prototypes and certified products in limited series.
For TUC.technology, EMA Global developed a specific motor control model and related software, and built the entire steering wheel device. EMA Global worked with the development and production Teams to study the characteristics and non-linearity of the electro-mechanical system; a specific testbench has been configured to automate collection of data, tuning and validate the control strategy to achieve the requested performances in any condition.
EMA Global is proud to be part of the future mobility revolution, bringing its values and capabilities into TUC 3.0 industrialized version.
For further information please refer to company section of the website: https://www.emaglobal.it/en/home-page/
ABOUT TUC.technology
TUC S.r.l is a Deep Tech company founded by Ludovico Campana (Co-founder, Inventor & CEO) and Sergio Pininfarina (Co-founder & President).
TUC S.r.l developed a patented, brand new and disruptive technology to revolutionize the future of mobility through solutions for developing vehicles as true modular human centric spaces.
TUC.technology re-defines the concept of vehicle following the guiding values of simplicity and progress, it has been exhibited in the major tech fairs all over the world like CES in Las Vegas, VIVATECH in Paris and GITEX Global in Dubai reaching an impressive Media coverage.
TUC.technology has been presented in 2 vehicles prototypes with the release TUC 1.0 and 2.0, both exhibited at the National Automobile Museum of Turin as a symbol of the redefinition of the vehicle.
TUC 3.0 industrialized version will be presented in 2023 to be applied on all mobility vehicles for starting the future mobility revolution.
For further information please refer to company section of the website: https://www.tuc.technology/#about
www.tuc.technology
Facebook @TUCtechnology
Instagram @tuc.technology
Twitter @TUCtechnology
Linkedin @TUC.technology
Press contacts:
https://www.tuc.technology/#contact
+39 392 1513580