 Press Release
14/03/2023
ROAD TO TUC 3.0 - TUC.technology® select Mark One for advanced prototyping of mobility revolution technology.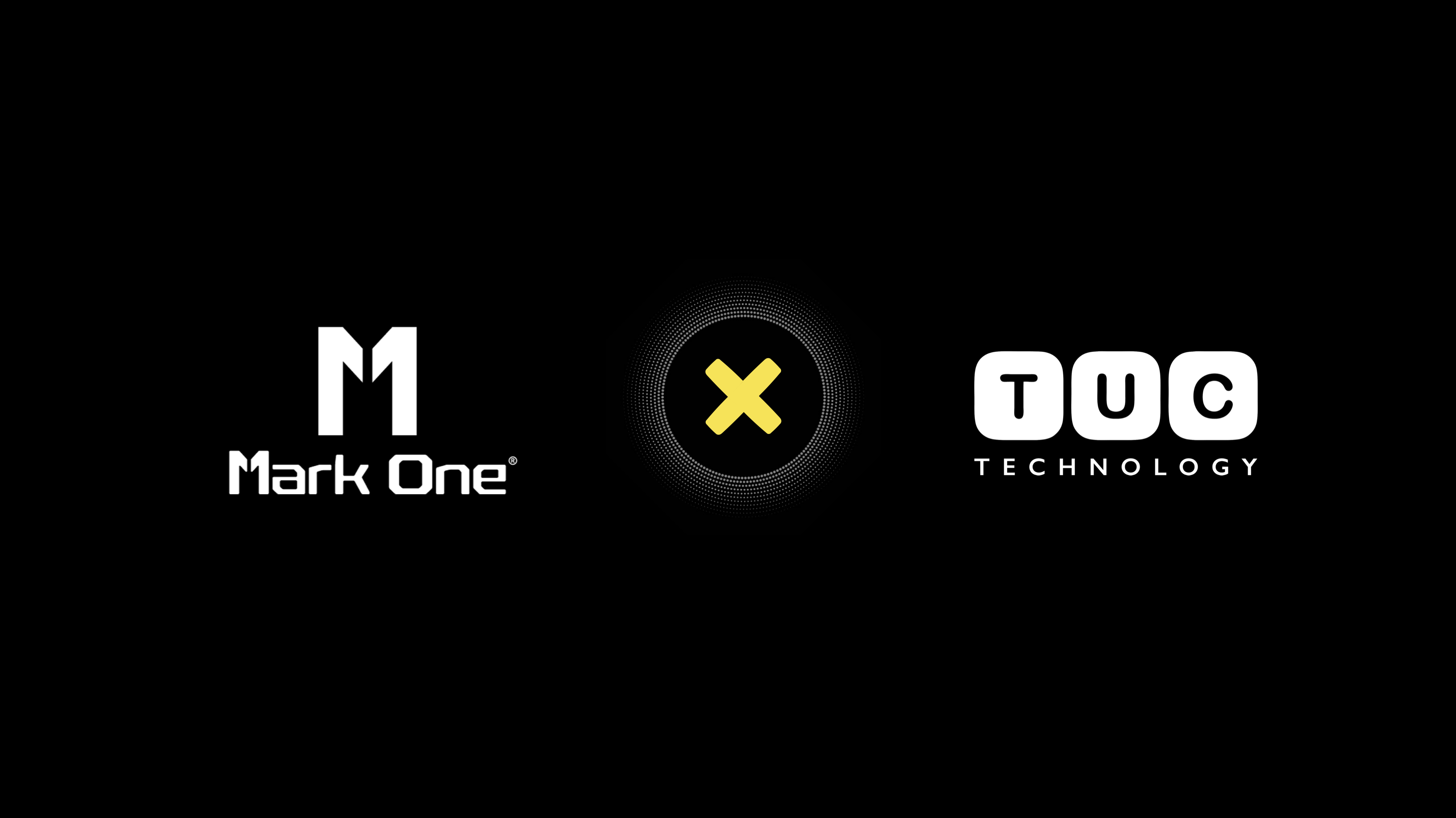 ROAD TO TUC 3.0 - TUC.technology® select Mark One for advanced prototyping of mobility revolution technology.


Advanced Technology deserves Advanced Prototyping.
Torino – After the launch of 1.0 and 2.0 technology releases and the introduction of brand-new TUC.nest, the "Kit for Mobility Space Development" in Dubai, TUC S.r.l., the company known for its "USB of mobility" solution TUC.technology, continues its journey towards the introduction of the industrialized version of it.
For supporting the development of TUC 3.0, TUC S.r.l. selected another Italian start-up excellence, Mark One and its advanced 3D printing solutions, for realizing prototypes that will be used for mechanics components development.
The partnership has been focused on accelerating the development of components that will be included in the industrialized version of TUC.technology thus reinforcing the message of "Made in Italy" advanced solutions.
Mark One is a brand-new additional partner to the TUC.technology Excellence Program launched since the beginning of TUC journey with the ambition of developing the disruptive TUC.technology applications with prestigious partners to further highlight the feasibility, concreteness and its strategic use in industry.
"With TUC technology, we intend to develop a standardized solution for vehicles, allowing a blank sheet approach to the layout of the cabin according to the user experience. For doing that, we engaged the most valuable industry leaders and disruptive new players, such as Mark One." explains Ludovico Campana, co-founder, inventor, and CEO of TUC. "We are thrilled to partner with Mark One and use their technology that allowed us a faster development of the industrialized version of our solution".
"At Mark One, we always believed that this technology could change the world and we are working everyday towards this purpose." explains Marco Zani, founder and CEO of Mark One. "The partnership with TUC.technology will reinforce our message of supporting companies in making processes easier, faster, more effective and cheaper. We fully embrace the TUC revolution in which we also see the soul of Mark One. Being able to standardize flexibility and customization according to customer requirements."
TUC.technology is the basis on which will be possible to build the vehicles of the future, it shifts the concept of the vehicle from defined to definable, completely reformulating what users can do on board. TUC transforms the use and meaning of the vehicle: from a pure mobility tool to a space to be inhabited and configured according to the needs of each user. The technology patented by TUC allows, in fact, to customize the vehicle by integrating "devices" of various kinds and making the mobility experience tailored to each user.
For more info about MARKONE 3D PRINTERS send a mail to [email protected]
-
ABOUT MARK ONE
Mark One is a manufacturing company that develops and manufactures industrial 3D printers with filament technology.
Mark One offers manufacturing companies a proprietary Plug & Play additive technology that is interconnected with the entire supply chain.
With services that can be customised to customers' needs, Mark One can customise its 3D printers at the hardware and software level to maximise their benefits, after a careful analysis of its partners' requirements to identify the most suitable materials and machinery.
Thanks to activities such as dedicated training courses of various levels and specific consultancy for projects related to Additive Manufacturing,
Mark One promotes a complete package that guarantees the optimal exploitation of the technology.
thanks to our patents and proprietary technology, we are able to do customized just-in-time and on-demand production according to actual business needs. Thus helping companies move from mass production to customized production.
-
ABOUT TUC.technology
TUC S.r.l is a Deep Tech company founded by Ludovico Campana (Co-founder, Inventor & CEO) and Sergio Pininfarina (Co-founder & President).
TUC S.r.l developed a patented, brand new and disruptive technology to revolutionize the future of mobility through solutions for developing vehicles as true modular human centric spaces.
TUC.technology re-defines the concept of vehicle following the guiding values of simplicity and progress, it has been exhibited in the major tech fairs all over the world like CES in Las Vegas, VIVATECH in Paris and GITEX Global in Dubai reaching an impressive Media coverage.
TUC.technology has been presented in 2 vehicles prototypes with the release TUC 1.0 and 2.0, both exhibited at the National Automobile Museum of Turin as a symbol of the redefinition of the vehicle.
TUC 3.0 industrialized version will be presented in 2023 to be applied on all mobility vehicles for starting the future mobility revolution.
For further information please refer to company section of the website: www.tuc.technology/company
www.tuc.technology
Facebook @TUCtechnology
Instagram @tuc.technology
Twitter @TUCtechnology
Linkedin @TUC.technology